CERIDWEN'S CAULDRON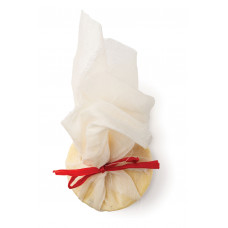 If your skin is feeling a little dry and sensitive, or you've always fancied bathing like Cleopatra, this oaty, milky melt will work magic. Drop the muslin pouch into your bathwater and watch it release its creamy oat milk, turning the water a creamy colour. Once it has melted, use the bag as a washcloth and enjoy the spellbinding scent of frankincense, rose and sandalwood.
This product melts in a warm bath so during hot spells it may start melting before it reaches your bathroom - You have been warned!
List of ingredients:
Fair Trade Organic Cocoa Butter, Whole Oats, Laureth 4, Walnut Oil, Perfume, Tangerine Oil, Lavender Oil, Sandalwood Oil, Frankincense Resinoid, Rose Absolute, Elderflowers, Daisy Flowers, Cowslips, *Farnesol, *Limonene, *Linalool.
*Occurs naturally in essential oils.
We do not test our finished products on animals. We also only purchase from ingredient suppliers who do not test on animals.
Related Products
Tags: Bath Oil