KATA KATA FISH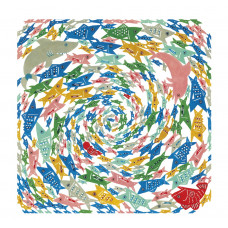 Based on the Japanese tradition of Furoshiki, Knot-Wraps is a great way to wrap any gift. Made from either organic cotton or two recycled plastic bottles, each one of our beautiful Knot-Wraps is extremely kind to the environment. And the best part? They're meant to be used again and again as a scarf, accessory or tote, so it's a bit like giving two gifts in one.
This swirling sea creature wrap was created by Kata Kata, a design house from Japan that specializes in traditional textile techniques to create their unique and colourful prints. Wrap up a selection of bathing delights in this seaworthy cotton bundle.

Size: 27.5" x 27.5"
How to use:
Use as gorgeous, paper-free gift wrapping, or wear as a scarf, headband or accessory.


Related Products
Tags: Knot Warp