THE NIGHT GARDEN
Gifts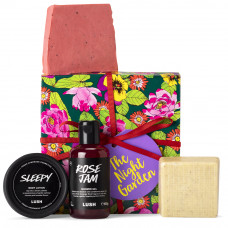 Four shower and body products to help someone find time to relax a little.
A sweet floral, relaxing and soothing combination of shower and body care products great for unwinding before going to sleep.
How to use:
-Soap: Lather up and rinse for a lush cleanse.
-Body butter: Apply to dry skin and rub all over. For a gentler buff, use on damp skin in the shower. Rinse away to feel super soft and smooth.
-Body Lotion: Scoop out a generous handful and smooth all over for soft, nourished skin.
-Shower Gel: Head into the shower and wash across the body for supremely soothed skin.
What's this ethical gift made of?
- Reusable box made from 100% recycled board.
- Printed Ribbon - Made from recycled plastic bottles.
- Eco pops. Your gift will be packed with these biodegradable product protectors.
How to Store:
Keep this ethically sourced gift somewhere cool and dry. The products are best used fresh.
Specification
Inside your gift...
Lotus Flower Soap 120g, Buffy Body Butter 90g, Rose JammShower Gelm100g, Sleepy Body Lotion 45g.
Related Products
Tags: Gifts