BLISSFUL
Gifts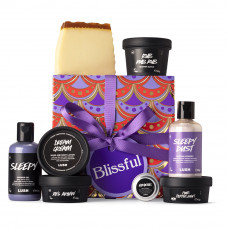 Eight to relax from head to toe, treat every part of someone with this delightful shower gift.
How to use:
Shower Gel: Wash all over and rinse for a lavender scented shower.
Soap: Lather under running watch for toffee-honey suds before rinsing.
Body Lotion: Scoop out a generous handful and smooth all over for soft, nourished skin.
Shower Scrub: For a natural scrub apply to dry skin and rub all over. Or for a more gentle sea salt buff, use on damp skin. Rinse to feel soft and smooth.
Foot Lotion: Put your feet up, massage a generous dollop into your skin and relax for as long as you have time.
Body Conditioner: Smooth on over wet skin whilst bathing or showering, rinse off, then lightly towel yourself dry.
- Shower Bomb: Hold your shower bomb under the running water and scoop up the foam as it expands. Use it to cleanse all over, going back for more until the bomb is all gone.
- Moisturiser: Gently sweep across your face for the ultimate hydration.
What's this ethical gift made of?
- Grosgrain cotton feel ribbon
- Eco pops - Your gift will be packed with these biodegradable product protectors.
How to Store:
Store somewhere cool and dry. These products are best used fresh.
Specification
Inside your gift...
Ro's Argan Body Conditioner 45g, Sleepy Shower Gel 110g, Dream Cream self-preserving Body Lotion 45g, Pink Peppermint Foot Lotion 45g, Gorgeous Moisturiser 10g, Rub Rub Rub Shower Scrub 130g, Honey I Washed The Kids Soap 100g, Comfort Zone Shower Bomb Each
Tags: Gifts