ROSE
Gifts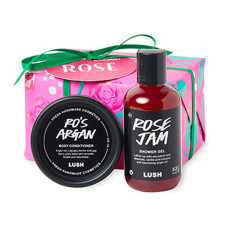 Roses are red, violets are blue.
Looking for a gift that says 'I love you'?
Capturing the sweet, heady scent of rose, this romantically-rampant present; perfect as a Valentine's, anniversary, or birthday gift, sets the mood for love. As the truly compatible two piece; Rose Jam Shower Gel and Ro's Argan Body Conditioner, are a match made in shower heaven. Rose oil and rose absolute flirtatiously caress the skin with a tantalizing perfume, brewed from delicate petals hand plucked at dawn in Senir, Turkey, when they are at their most fragrant and alluring. A sweet vanilla pod infusion, combined with cleansing lemon oil, relaxing cypress leaf infusion, fresh goji berry juice, and conditioning argan oil harmoniously entwine for a result that won't only soften the skin, but the heart too.
How to use:
Shower Gel: Squirt it all over and lather up before rinsing to leave your skin on fine (and fragrant) rosy form.
Body Conditioner: Use as you would a hair conditioner, but on your body. Smooth on over wet skin whilst bathing or showering, rinse off, then lightly towel yourself dry.
How to store:
- Before bestowing upon your loved one, store this gift in a cool, dry place.
- Once opened, keep all products away from moisture and heat.

Specification
Inside your gift...
Rose Jam Shower Gel 100g, Ro's Argan Body Conditioner 45g, Recycled Paper
Tags: Gifts