REFRESH
Gifts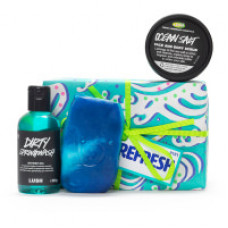 Kick start the day and scrub up fresh with zesty lime and brightening grapefruit. Mind-tingling eucalyptus and peppermint oil give you a wake-up-call and leave you feeling clean as a whistle. Brighten up any day thanks to this uplifting trio, bundled in a gift box and wrapped in golden eagle paper and ribbon made of recycled plastic bottles.
How to Use:
Face and Body Scrub: Apply to damp skin and rub gently to exfoliate and refresh the skin. Rinse clean and pat dry.
Soap: Lather up then rinse clean!
Shower Gel: Hop in the shower and lather up.
How to Store:
- Before bestowing upon your loved one, store this gift in a cool, dry place.
- Once opened, keep all products away from moisture and heat.

Specification
Inside your gift...
Ocean Salt Alcohol Free Face and Body Scrub 75g, Outback Mate Soap 120g, Dirty Springwash Shower Gel 100g, Golden Eagle Paper
Tags: Gifts