RELAX
Gifts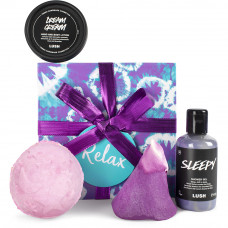 Turn down the volume, lift the lid on herbal harmony and submerge into a dreamscape of the serene. Day turns into night, lavender oil soothes, and tonka absolute comforts, so lie back and enjoy a bath brimming with silky soft bubbles. Lather up with calming oat milk and carrageenan extract and let lavender flower infusion and ylang ylang wash your worries away.
How to Use:
Bath Bomb: Fill your bathtub with warm water, drop in the bath bomb and lie back to enjoy its lovely color and gorgeous fragrance.
Bubble Bar: Crumble under running warm water as you fill the tub for mountains of fluffy, fragrant bubbles.
Body Lotion: Smooth all over your body, taking extra care with your dry areas.
How to Store:
- Before bestowing upon your loved one, store this gift in a cool, dry place.
- Once opened, keep all products away from moisture and heat.


Specification
Inside your gift...
Twilight Bath Bomb, A French Kiss Bubble Bar, Sleepy Shower Gel 100g, Dream Cream Self-Preserving Body Lotion 45g
Related Products
Tags: Gifts