FRESH FARMACY FACIAL SOAP
Cleansers & Scrubs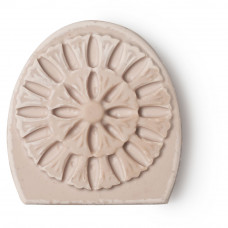 Every ingredient of this facial soap bar is carefully selected for its gentleness on your skin. With chamomile, elderflower, and lavender; this is nature at its kindest. If you're looking for a facial wash to soothe and calm sensitive skin, this is the cleanser for you.
Benefits:
- Calamine powder, which makes up about a quarter of the formula for this soap, gently cleanses the most delicate skin and soothes irritation.
- Chamomile blue oil is soothing and calming on your skin while aiding restful sleep.
- Tea tree oil is antibacterial, antimicrobial, and antiseptic, helping to keep skin clean and spotless.
- Rose absolute helps to reduce redness and balance your skin.
How to use: Simply lather in your hands and massage over wet skin before rinsing away for a soothed, calm finish. Follow with other gently cleansing products such as Catastrophe Cosmetic fresh face mask and Full of Grace naked facial oil.
How to store: Keep on a soap dish or in a Lush tin to use again and again.



List Of Ingredients:
Calamine Powder, Propylene Glycol, Chamomile and Elderflower Decoction (Matricaria chamomilla and Sambucus nigra), Rapeseed Oil; Coconut Oil (Brassica napus; Cocos nucifera), Water (Aqua), Sodium Stearate, Extra Virgin Coconut Oil (Cocos nucifera), Lavender Oil (Lavandula angustifolia), Chamomile Blue Oil (Matricaria chamomilla), Tea Tree Oil (Melaleuca alternifolia), Rose Absolute (Rosa damascena), Glycerine, Sodium Chloride, Sodium Hydroxide, EDTA, Tetrasodium Etidronate, *Limonene, *Linalool, Perfume
*occurs naturally in essential oils.
We do not test our finished products on animals. We also only purchase from ingredient suppliers who do not test on animals.
Related Products
Tags: Cleansers & Scrubs