MOVIS FACIAL SOAP
Cleansers & Scrubs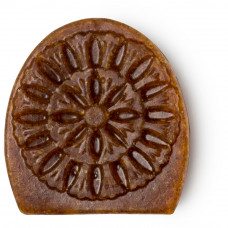 If your skin kneads a little pick me up then look no further than this facial soap made with an extra virgin coconut and sunflower oil soap base. A hearty soap with plenty to give, wheatgerm oil moisturises while Fair Trade organic cocoa butter softens. Wholemeal bread blended throughout gently buffs and polishes skin as you wash, leaving you feeling soft, clean and just right. It's the best thing since sliced bread!
Benefits:
-
Wholemeal bread, baked in house, offers gentle exfoliation alongside wheatgerm and granulated sugar.
- Hop oil is antibacterial and helps to calm and soothe your skin.
- Labdanum resinoid and sandalwood oil are antimicrobial and soothing on your skin as well as having a comforting scent.
How to Use:
Rub between palm of hands or onto body and rinse.
List Of Ingredients:
Water (Aqua), Wholemeal Bread, Glycerine, Extra Virgin Coconut Oil (Cocos nucifera), Granulated Sugar, Sunflower Oil (Helianthus Annuus), Wheatgerm Oil (Triticum vulgare), Sodium Hydroxide, Fair Trade Organic Cocoa Butter (Theobroma cacao), Perfume, Wheat Bran (Triticum Vulgare), Wheat Germ (Triticum Vulgare), Hop Oil (Humulus Lupulus), Labdanum Resinoid (Cistus ladaniferus), Sandalwood Oil (Santalum austro-caledonicum vieill), *Benzyl Alcohol, *Benzyl Benzoate
*occurs naturally in essential oils.
We do not test our finished products on animals. We also only purchase from ingredient suppliers who do not test on animals.
Related Products
Tags: Cleansers & Scrubs