TURMERIC LATTE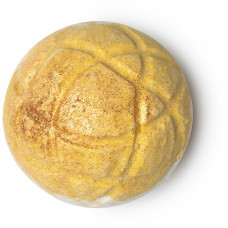 Velvety and warming - give your skin some TLC (Tumeric Latte Care) when the temperature begins to dip. Chocolate, coffee and vanilla swirl in the steam, soothing the mind, and ribbons of gold pirouette through frothy, creamy water, adding an extra touch of decadence. Coconut milk powder calms the skin, while turmeric serves as a clever cleanser with its antibacterial properties.
How to use:
Fill your tub with warm water, drop in the bath bomb and lie back to enjoy its lovely color and gorgeous fragrance.

How to store:
Store in a cool, dry place.

List of ingredients:
Sodium Bicarbonate, Citric Acid, Cornflour, Synthetic Fluorphlogopite, Gardenia Extract, Tonka Absolute, Benzoin Resinoid, Vanilla Absolute, Coconut Milk Powder, Ground Turmeric, Cream of Tartar, Water (Aqua), Silica, Dipropylene Glycol, Coumarin,
Related Products
Tags: Bath Bomb
© Lush Kuwait 2020