REFRESH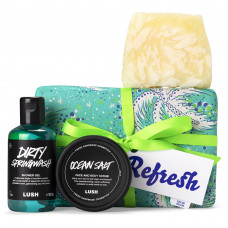 Three refreshing products to help you feel uplifted at any time of the day.
This handmade gift will help anyone scrub up and kick start their day with products for the body and shower.
How to use:
- Shower Gel: Head into the shower and wash across the body for supreme skin.
- Soap: Lather up and rinse for an uplifting cleanse.
- Face and Body Scrub: For a natural scrub apply to dry skin and rub all over. Or for a more gentle sea salt buff, use on damp skin. Rinse to feel soft and smooth.
What's this ethical gift made of?
- Banana fibre paper
- Printed Ribbon - Made from recycled plastic bottles.
- Eco pops Your gift will be packed with these biodegradable product protectors.
How to Store:
Keep this ethically sourced gift somewhere cool and dry. The products are best used fresh.
Specification
Inside your gift...
Ocean SaltFace And Body Scrub 75g, Bohemian Soap 100g, Dirty Springwash Shower Gel 100g.
Tags: Gifts