SLEEPY GIFT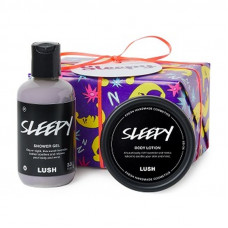 Over your bed floats a comforting cloud of tonka and ylang ylang. Quiet lavender flowers whisper lullabies as the hustle and bustle of the day dies down. Rest your head on your pillow and drift off to dreamland.
How to use:
Body Lotion: Smooth all over your body, taking extra care with your dry areas.
Shower Gel: Hop in the shower and lather up.
How to store:
- Before bestowing upon your loved one, store this gift in a cool, dry place.
- Once opened, keep all products away from moisture and heat.
Specification
Inside your gift...
Sleepy Body Lotion 45g, Sleepy Shower Gel 100g and Recycled Paper
Related Products
Tags: Gifts