ORANGE BLOSSOM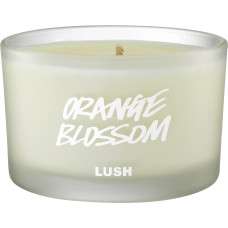 VEGAN
SCENTED CANDLE
Golden floral citrus glow
Bask in floral sunshine. Bringing the warming scent of the Mediterranean to your personal space, this Lush candle will spread the sweet, honeyed florals of orange blossom and gentle bright notes of bergamot and neroli. Perfect for boosting the mood in your immediate area.
What's this ethical candle made of?
Just like all of our products, we use beautiful, high quality, ethically-sourced essential oils in our candles. With a natural wax base of rapeseed wax, coconut oil, coconut wax and castor wax, all our candles are palm-free, GM-free, & soy-free whilst also being 100% vegan. The beautiful frosted glass is completely reusable or 100% recyclable.
Notice a light mottling pattern on your candle? This is called Frosting and is a unique and natural effect of using vegetable waxes. The wax is trying to return back to its natural form and as a result it begins to crystallise. It doesn't affect the performance of the candle in any way and also confirms the wax is 100% natural.
Approx. burn time: 12 - 15 hours
Dimensions: 70mm diameter x 45mm height
Get the best from your candle.
- Trim the wick either after use or before you light it next time to ensure an even burn.
- Pop your lit candle on a coaster or plate to protect surfaces.
- Use in a well-ventilated space avoiding drafts.
- Burn for the right amount of time; 3-4 hours is ideal.
- Extinguish with care.
- Never leave a burning candle unattended or in the reach of children or pets.
FIGHTING ANIMAL TESTING
We have been fighting against animal testing since before we opened our first shop, and the fight continues today. We test products on humans and promote, fund and use human biology-relevant testing methods entirely animal and animal-product free.
Related Products
Tags: Scented Candle