HONEY I WASHED THE KIDS & KARMA SOAP STACK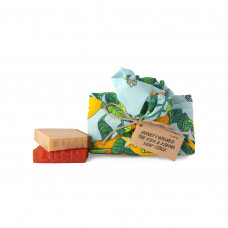 Two soaps to soothe and uplift. Up until someone's washing game with soap for any mood. Sweet or spicy, this gift contains a tenugui towel, perfect for handwashing or gift wrapping.
How to use:
- Soap: Lather up, wash and rinse off.
- Tenugui: Wash before use. Carry with you for handwashing or use to wrap other products.
Features of Tenugui
- Dries quickly and is always clean
- Thin and compact
There is no sewn edge allowing the tenugui to dry quickly without any place for bacteria to develop.
Tenugui is a similar size to a face towel, but more compact to carry anywhere without taking too much space in your bag. It is particularly suitable for outdoor activities, sports, and travelling.
After use, it can be washed and hung to dry. It dries very quickly, so it is usually ready to pack and go within a day.
Endless possibilities
There are no rules on how to use tenugui, dry your hands, wrap with it, use it as decoration for your home or hair, there are a whole host of options. It can also be cut into different sizes based on what you need.
Specification
Inside your gift...
Honey I Washed The Kids Soap 100g, Karma Soap 100g, Tenugui Knot Wrap Each
Tags: Gifts