SPLASH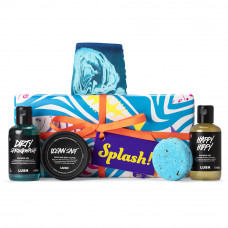 A selection of five refreshing shower products.
A perfect ethical gift to emerge refreshed, washes for body and hair that will leave them uplifted.
How to use:
Soap: Lather up and rinse for a lush cleanse.
Shampoo Bar: Stroke your shampoo bar over your hair a few times to lather it up, massage and rinse for cleansed hair.
Shower Gels: Workover your body in the shower, lather up and rinse.
What's this ethical gift made of?
- 100% recycled and recyclable paper.
- Printed Ribbon - Made from recycled plastic bottles.
-Eco Pops. Your gift will be packed with these biodegradable product protectors
How to Store:
Keep this ethically sourced gift somewhere cool and dry. The products are best used fresh.
Specification
Inside your gift...
Dirty Springwash Shower Gel 100g, Seanik Shampoo Bar 55g, Ocean Salt Face And Body Scrub 70g, Outback Mate Soap 100g, Happy Hippy Shower Gel 100g.
Tags: Gifts