ORBITAL - YELLOW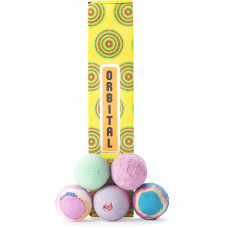 A bath a day keeps bad vibes away! Bringing together five of Lush's most loved bathing products, Orbital Yellow is the perfect gift for someone who loves a bit of everything.
Watch as Intergalactic orbits your bathtub, leaving a galaxy of glistening shimmer and swirls of vibrant colour in its wake, while bursts of peppermint give you that uplifted and fresh feeling. If the excitement of space has left you needing some downtime, allow Twilight's shimmering purple waters and the scent of relaxing lavender send you into a perfect slumber. Needing something sensual? Sex Bomb has you covered. A bouquet of florals, fragrant jasmine and ylang ylang will soon have you feeling in the mood. When you're needing something sweet, Marshmallow World gives you the kick you desire, with marshmallow powder to soothe and soften. Alternatively, give your skin a good long drink. Take a dunk in Avobath and soak up the moisturising goodness of fresh avocado and reviving lemongrass oil.
They'll love this if they like:
- A spectrum of colour to jazz up bathtime.
- Everything from sweet, to floral fragrances. Lush have you covered.
Gifting all wrapped up:
- A box that keeps on giving, this colourful gift is made from recycled materials and can be reused and recycled beyond the bath!
- Available in three different colours, perfect for storing your products by colour and scent.
- Not your average packaging peanuts - Eco Pops are made from cornstarch and can be popped in the compost to biodegrade.
How to use:
- Bath bomb: Drop into the bathwater for a dazzling release of colour and essential oils.
How to store:
- Store this gift in a cool, dry place, away from prying eyes.
- Once opened, keep all products away from moisture and heat.
Specification
Inside your gift...
Avobath Bath Bomb Each, Twilight Bath Bomb Each, Intergalactic Bath Bomb Each, Pink Bomb Bath Bomb Each, Marshmallow World Bath Bomb Each, Reusable Box.
Tags: Gifts