YUGE HOT OIL TREATMENT
Hot Oil Treatments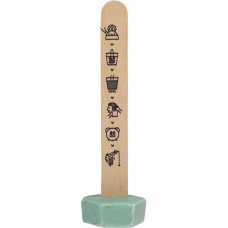 You want the real news about this hot oil treatment?
Sea salt gives volume - fact.
Jojoba oil gives shine - fact.
Guar gum gives condition - fact.
All together, they give your hair condition and extra volume - fact.
We're gonna make you pay for it - fact.
List of ingredients:
Cetearyl Alcohol & Sodium Lauryl Sulfate, Guar Gum (Guar hydroxypropyltrimonium chloride), Sodium Bicarbonate, Fine Sea Salt, Organic Agave Syrup, Coarse Sea Salt, Citric Acid,Extra Virgin Olive Oil, Organic Jojoba Oil, Spearmint Oil, Cream of Tartar, Peppermint Powder,*Benzyl Alcohol, *Limonene, Perfume, Colour 42090:2

* Occurs naturally in essential oils

We do not test our finished products on animals. We also only purchase from ingredient suppliers who do not test on animals.

Product Details
How to Use:
Fill a mug with boiling water (leaving a little space at the top) and simply stir in your hot oil treatment until it has completely melted. Allow the treatment to cool for 20 minutes before applying to dry hair. Sit back and relax for 20 minutes before shampooing out. Made too much? Keep in the bathroom for a moisture top up as often as you need for up to 4 weeks.
Related Products
Tags: Hot Oil Treatment