LADY BIRD BUBBLE BAR
Bubble Bath Bars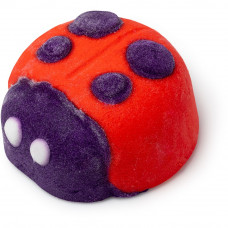 Ladybirds are a sign of good luck, and this one is sure to grant your wishes for sublimely scented suds. You'll go dotty for the sweet, strawberry notes, nestled in a bed of mint and geranium - a fresh and fruity fragrance with a cool edge. Deeply shimmering purple waters and mounds of bubbles will leave you feeling as snug as a bug in a rug.
You'll love this if you like:

- Popping bubbles and feeling lucky. body scrub. Scrub Scrub Scrub bath bomb or Strawberries and Cream -
- Sweet, fruity and crisp scents with a herbal complexity.
Benefits:
- Sourced in India, peppermint oil helps to to uplift your mood, stimulate your skin and bring a cool note to the fragrance.
- Geranium oil gives a sweetly herbal and floral edge, adding depth and balancing your mood.
How to use: Crumble your Ladybird under running water and swoosh around for a heap of softening bubbles. Ah, it's a bug's life.
How to store: We don't want to bug you, but make sure you keep this product somewhere cool and dry until you're ready to use it.
List of ingredients:
Sodium Bicarbonate, Cream of Tartar, Sodium Laureth Sulfate, Lauryl Betaine, Cornstarch, Perfume, Geranium Oil, Peppermint Oil, *Citronellol, Colour 14700, Colour 45410, Colour 17200, Colour 42090
*occurs naturally in essential oils.
We do not test our finished products on animals. We also only purchase from ingredient suppliers who do not test on animals.

Tags: Bubble Bar