BLUE GARDENIA SALT CUBE
Bath Bombs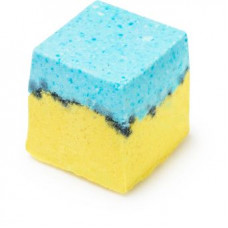 Just like adding a lump of sugar to a calming cup of tea, this cute little cube is just the ticket for perfect relaxation when added to a nice hot bath. Fill the tub and drop it in, letting the soothing Epsom and sea salts dissolve into the water. Then a heavenly fragrance of gardenia, lavender and Sicilian lemon oils fills the air to leave you feeling truly soothed. Go ahead, get a little salty.
How to use:
Run your bath, add this cube of Epsom salts and dip into a pool of cobalt blue exfoliation.

How to store:
Store in a cool, dry place until the Mediterranean calls.
List of ingredients:

Related Products
Tags: Bath Bomb