BLAZIN' BAD ZULA
Bath Bombs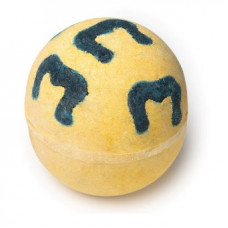 This warming bath bomb summons your superpowers and leaves you feeling ready to slay the day. With stimulating ingredients to boost circulation and a mood-enhancing fragrance, you'll emerge mightier than when you submerged in the deep blue waters.
You'll love this if you like:
- Spicy, stimulating soaks.
- Wiccy Magic Muscles massage bar or Turmeric Latte bath bomb, Brazened Honey fresh face mask.
- Leaving the house feeling like your favourite superhero.
List of ingredients:
Sodium Bicarbonate, Citric Acid, Fair Trade Organic Cocoa Butter, Synthetic Fluorphlogopite, Black Pepper Oil, Cinnamon Leaf Oil, Clove Bud Oil, Brazilian Orange Oil, Cream of Tartar, Gardenia Extract, Cornstarch, Laureth 4, Sodium Laureth Sulfate, Dipropylene Glycol, Lauryl Betaine, Silica, *Citral, *Eugenol, *Linalool, Colour 77499, Colour 17200, Colour 77491, Colour 42053, Colour 42090
*occurs naturally in essential oils.
We do not test our finished products on animals. We also only purchase from ingredient suppliers who do not test on animals.
Product Details
Benefits
- Black pepper oil stimulates your skin and leaves you radiating the strength of a warrior. - Cinnamon leaf oil helps blood circulation, so you'll leave the bath with a mystical glow. - Sweet and spicy clove bud oil soothes and stimulates the skin. - Feel positively powerful thanks to uplifting Brazilian orange oil.
How to Store:
Store in a cool, dry place until you're ready to evoke your inner superhero.
How to Use:
Run your bath and hop in. Drop-in your bath bomb and lay back to enjoy deep blue, waters and empowering scents.
Related Products
Tags: Limited Edition