LITTLE GREEN BAG
Gifts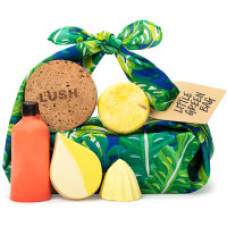 Grab your bag and head on an adventure - with no worries about leaving any packaging behind. This gift, filled with naked goodies to pamper you from head to toe is great for the seasoned traveller or the person who's on the road to a zero-waste lifestyle. Products to shampoo, shower and soften all wrapped up in a Knot Wrap made from recycled PET plastic. Be ready to answer the call of the wild at the drop of a wrap.
How to Use:
- Shampoo Bar: Rub between hands to create a lather, or directly onto hair. Massage into the hair and scalp then rinse clean.
- Naked Shower Gel: Get this naked gel in your hands, lather up and rub all over for a sweet pudding fragrance.
- Shower Bomb: Run your shower and hold your shower bomb under the flow. As it expands, scoop up the foam and cleanse your skin.
- Shower Oil: Smooth over your whole body in the shower. Rinse away for soft, strokable skin.
How to Store:
- Before bestowing upon your loved one, store this gift in a cool, dry place.
- Once opened, keep all products away from moisture and heat.


Specification
Inside your gift...
Godiva Shampoo Bar, The Olive Branch Naked Shower Gel, Cork Pot, Not Sleepy Shower Bomb, Minamisoma Shower Oil, Little Green Bag Knot Wrap
Tags: Gifts