DIRTY GIFT
Gifts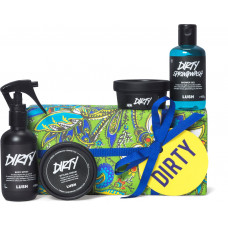 A dose of herbaceous freshness is just the thing for those on the move, and this refreshing package has all the tools to help you take on the world. Wash, shave, spray, style and go to feel fresh from top to toe and have passersby leaning closer for more. That's right, you've still got it.
How to Use:

-Body Spray: Spray this cooling fragrance onto your skin following a shower and shave for a crisp clean feeling.
-Shaving cream: smooth over wet skin to help your razor blade glide effortlessly.
- Shower Gel: Hop into the shower and smooth all over for softening suds.
-Styling Cream:Rub a small amount between hands and work into wet or dry hair. Style as usual.
How to Store:
- Before bestowing onto your loved one, store this gift in a cool, dry place away from prying eyes.
- Once opened, keep all products away from moisture and heat.
Specification
Inside your gift...
Dirty Body Spray, Dirty Shaving Cream, Dirty Springwash Shower Gel, Dirty Styling Cream, Cotton Rag Paper
Related Products
Tags: Gifts