YOU'RE A STAR
Gifts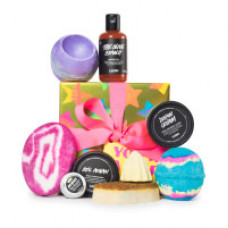 Feel like the star that you are with products specially selected to leave your skin smooth and raise your spirits. With a collection of delightful bath and shower goodies, you can give your body its moment in the spotlight and add a little glamour to your day. If your week's been a bit beige and you're crying out for some colour, pick up this vibrant box to brighten things up.
How to use:
Body Conditioner: Use as you would a hair conditioner, but on your body. Smooth on over wet skin whilst bathing or showering, rinse off, then lightly towel yourself dry.
Shower Gel: Hop in the shower and lather up.
Bubble Bar: Crumble under the tap while you run a warm bath.
Shower Bomb: Run your shower just right and hold your shower bomb under the flow. As it expands, let your mind follow before scooping up the foam, using it to cleanse and going back for more until the whole bomb is gone.
Body Lotion: Smooth all over your body, taking extra care with your dry areas.
Bath Bomb: Drop into a warm bath and let the essential oils escort you to your happy place.
Moisturiser: Apply a dab onto a clean face for smooth, silky skin.
Soap: Caramel-scented suds that will leave your skin feeling soft and soothed. Lather the soap packed with moisturising English honey under running water, cleanse and rinse.

How to store:
- Before bestowing upon your loved one, store this gift in a cool, dry place.
- Once opened, keep all products away from moisture and heat.
Specification
Inside your gift...
Ro's Argan Body Conditioner, The Olive Branch Shower Gel, The Comforter Bubble Bar, Not Sleepy Shower Bomb, Dream Cream Self-Preserving Body Lotion, Intergalactic Bath Bomb, Gorgeous Moisturiser, Honey I Washed the Kids Soap, Oudhess Bath Bomb
Tags: Gifts