ALL THE BEST
Gifts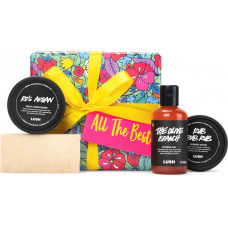 A selection of our favourite and best-selling products, all wrapped up in a beautiful gift. The Olive Branch is filled with beautiful citrus oils to evoke a blissful Mediterranean morning; Honey I Washed The Kids is our scrummy smelling honey-toffee soap; Ro's Argan Body Conditioner is a creamy, rosy wash that leaves your skin soft and nourished, whilst Rub Rub Rub is full of mimosa, and sea salt to scrub and soften your skin.
How to Use:
- Shower Gel: Shimmy into the shower and smooth all over for softening suds.
- Body conditioner: Scoop out a handful and massage all over for soft, moisturised skin.
- Shower scrub: Take a generous handful and smooth over skin, buffing and polishing as you go.
- Soap: Caramel-scented suds that will leave your skin feeling soft and soothed. Lather the soap packed with moisturising English honey under running water, cleanse and rinse.
How to Store:
- Before bestowing onto your loved one, store this gift in a cool, dry place away from prying eyes.
- Once opened, keep all products away from moisture and heat.


Specification
Inside your gift...
Honey I Washed the Kids Soap Ro's Argan Body Conditioner The Olive Branch Shower Gel Rub Rub Rub Shower Scrub
Related Products
Tags: Gifts