HAPPY GIFT
Gifts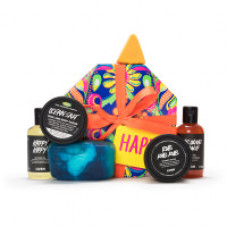 Spread a little joy with this gift that will shower the happy camper with uplifting scents and suds. Soap up with energising Sicilian lemon and fresh mandarin juice that will brighten your mood and your skin. Rub Rub Rub the blues away with mimosa and orange flower and indulge in the fizz and foam of Brazilian orange, pine and patchouli. With everything you need to leave skin clean and mind clear, this gift will leave everyone smiling.
How to Use:
Soap: Time for a refreshing cooldown with tingly, cleansing peppermint and eucalyptus oils. Lather under running water, wake up to the rousing lemongrass and rinse.
Face and Body Scrub: If you feel like you need a good scrub down, apply to dry skin and rub all over, using circular motions, or for a gentler buff, use on damp skin in the shower. Rinse away to feel super soft and smooth.
Shower Gel: Hop in the shower and lather up.
Shower Bomb: Run your shower just right and hold your shower bomb under the flow. As it expands, let your mind follow before scooping up the foam, using it to cleanse and going back for more until the whole bomb is gone.
Shower Scrub: Apply to damp skin and rub gently to exfoliate and cleanse the skin, then rinse clean.
How to Store:
- Once opened, keep all products away from moisture and heat.
- Before bestowing upon your loved one, store this gift in a cool, dry place.


Specification
Inside your gift...
Outbackmate Soap, Ocean Salt Alcohol Free Face and Body Scrub, The Olive Branch Shower Gel, Happy Hippy Shower Gel, Karma Shower Bomb, Rub Rub Rub Shower Scrub, Reusable Box
Tags: Gifts