BUTTERFLY
Gifts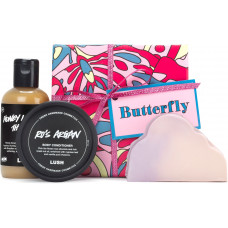 Whispers of gentle lavender flower infusion and French lavender oil scent the softly floral soap in this divine trio of products. Comfort is found in a honey coloured blanket and following an exquisitely calming cleanse, Ro's Argan Body Conditioner will cover skin with sumptuous smoothness in the shower. It's packed with beautifying argan oil and moisturising organic Brazil nut oil, so there's no better time to lock the door, shut the curtains and enjoy some pampering time.

How to Use:
-- Shower Gel: Shimmy into the shower and smooth all over for softening suds.- Soap:The signature Sleepy scent of lavender and tonka, joins a creamy lather of oat milk to help you cleanse, calm and unwind. Lather, clean, rinse and relax.
-Body Conditioner: Smooth all over your wet skin after washing, then rinse clean.


How to Store:
- Before bestowing onto your loved one, store this gift in a cool, dry place away from prying eyes.
- Once opened, keep all products away from moisture and heat.

Specification
Inside your gift...
Ro's Argan Body Conditioner, Sleepy Soap, Honey I Washed the Kids Shower Gel
Related Products
Tags: Gifts