HELLO GORGEOUS
Gifts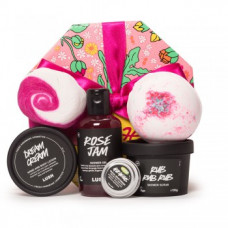 Like a beautiful bouquet, this indulgent bunch of products will leave you feeling fancy. Lift the lid on a delectable collection of treats, selected to ensure this pampering gift will soothe, smooth and soften.
How to Use:
Shower Gel: Squirt it all over and lather up before rinsing to leave your skin on fine (and fragrant) rosy form.
Body lotion: Scoop out a handful and massage all over for soft, moisturised skin.
Bath Bomb: Drop into a warm bath and let the essential oils escort you to your happy place.
Shower Scrub: Apply to damp skin and rub gently to exfoliate and cleanse the skin, then rinse clean.
Moisturiser: Apply a dab onto a clean face for smooth, silky skin.
Bubble Bar: Bubble bar: Crumble a little, a lot, or the whole thing into a running bath for mounds of bubbles.
How to Store:
- Once opened, keep all products away from moisture and heat.
- Before bestowing upon your loved one, store this gift in a cool, dry place.



Specification
Inside your gift...
Rose Jam Shower Gel, Dream Cream Self-Preserving Body Lotion, Sakura Bath Bomb, Rub Rub Rub Shower Scrub, Gorgeous Moituriser, The Mini Comforter Bubble Bar, Reusable Box
Tags: Gifts