BLOOMING BEAUTIFUL
Gifts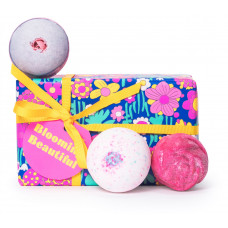 A secret garden bursts from within this pretty parcel. Crumbling the rose absolute and oil blend of Rose Jam bubbleroon under running water will release streams of sweetly floral bubbles that calm the senses. The uplifting ylang ylang and grounding clary sage oils in Pink Bomb will help to bring minds back to the here and now without worries. Fizzing Sakura whisks low moods away on a cherry blossom breeze with uplifting lemon oil and bright orange blossom absolute. A blossoming trio of fantastic florals soothes worries and helps instill serenity.

How to Use:
- Bath Bomb: Drop into a warm bath and let the essential oils escort you to your happy place.
- Bubble bar: Crumble a little, a lot, or the whole thing into a running bath for mounds of bubbles.
How to Store:
- Before bestowing onto your loved one, store this gift in a cool, dry place away from prying eyes.
- Once opened, keep all products away from moisture and heat.
Specification
Inside your gift...
Rose Jam Bubbleroon, Sakura Bath Bomb, Pink Bomb Bath Bomb
Related Products
Tags: Gifts