BELLA FRUTTA
Gifts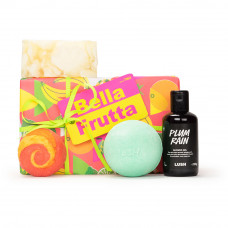 Jam-packed with oodles of fruit, it's tempting to taste this bright, sweet-smelling collection. Resist the urge though, they're a fruit bowl for your body instead. Fresh avocado starts a tropical fizz, orange and lemon oils create tangy scented shapes, plum swirls juicy lathers on your skin... there's so much to discover as you refresh and invigorate all over.
How to Use:
- Bath Bomb: Drop into a warm bath and let the essential oils escort you to your happy place.
- Bubble bar: Crumble a little, a lot, or the whole thing into a running bath for mounds of bubbles.
- Shower Gel: Shimmy into the shower and smooth all over for softening suds.
- Soap: Brighten your day and your skin with this lemon packed soap. Lather up under running water, wash, then rinse, to leave you feeling squeaky clean.

How to Store:
- Before bestowing onto your loved one, store this gift in a cool, dry place away from prying eyes.
- Once opened, keep all products away from moisture and heat.



Specification
Inside your gift...
Avobath Bath Bomb, Bohemian Soap, Brightside Bubble Bar, Plum Rain Shower Gel
Related Products
Tags: Gifts