HAPPY BATHDAY
Gifts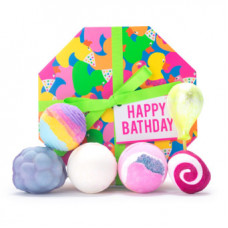 Be it a birthday, an un-birthday, pay day, wedding day or any other kind of day...why not make it a bath day? And a happy one at that! Whether you fancy blowing bubbles, fizzing bombs, or just a little fun, these six bathing beauties will bring the party right to your bathroom.
How to Use:

- Bath Bomb: Drop into a warm bath and let the essential oils escort you to your happy place.
- Bubble bar: Crumble a little, a lot, or the whole thing into a running bath for mounds of bubbles.
How to Store:
- Before bestowing onto your loved one, store this gift in a cool, dry place away from prying eyes.
- Once opened, keep all products away from moisture and heat.


Specification
Inside your gift...
Blackberry Bath Bomb, Groovy Kind of Love Bath Bomb, Marshmallow World Bath Bomb, Party Balloon Silver Reusable Bubble Bar, The Comforter Bubble Bar, Dragon's Egg Bath Bomb, Reusable Box
Tags: Gifts