JUICY
Gifts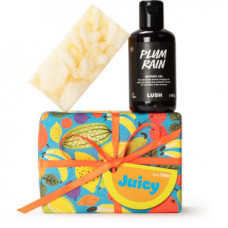 A juicy duo of fruity favourites awaits. Plum Rain brings a downpour of brightening umeboshi infusion and fresh plum juice for sweetly scented cleanses. If dancing in the shower is what you're after, Bohemian brings the music with uplifting and skin brightening lemon oil. Juiced the ticket for uplifting showers that will have to dancing down the street (or to bed)!
How to Use:
Shower Gel: Hop in the shower and lather up.
Soap: Lather up then rinse clean!

How to Store:
- Before bestowing upon your loved one, store this gift in a cool, dry place.
- Once opened, keep all products away from moisture and heat.


Specification
Inside your gift...
Plum Rain Shower Gel, Bohemian Soap, Banana Paper
Tags: Gifts