COSMIC
Gifts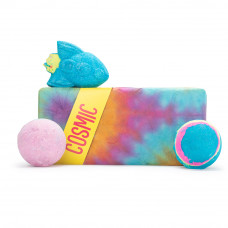 One by one, this trio of meteors will collide with water. Blast into outer space in a ball of paradisiacal peppermint with a citrusy grapefruit oil tang. Soar high in your spaceship of bergamot and Sicilian lemon oils. As you return to Earth and the day ebbs away into the starry night, watch shimmering pink and blue waves journey around the bath. Relaxing lavender and comforting tonka will send all to bed feeling content and free from worries.
How to Use:
- Bath Bomb: Drop into a warm bath and let the essential oils escort you to your happy place.
How to Store:
- Once opened, keep all products away from moisture and heat.
- Before bestowing onto your loved one, store this gift in a cool, dry place away from prying eyes.



Specification
Inside your gift...
Intergalactic Bath Bomb, Twilight Bath Bomb, Rocket Science Bath Bomb
Related Products
Tags: Gifts