DEEP SLEEP GIFT
Gifts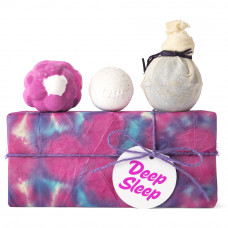 Three bath bombs to aid relaxation and invite sleep.
A handmade bath gift to help anyone relax, ready for 40 winks. These three bath bombs will unwind mind and body with skin-softening soaks.
How to use:
- Bath Bomb: Drop into your bathwater for a dazzling release of colours and essential oils.
What's this ethical gift made of?
- Inner box - 100% recycled board.
- Tie-dyed reusable Lokta paper made in Nepal
- Twine
- Eco pops. Your gift will be packed with these biodegradable product protectors.
How to store:
- Before gifting, store in a cool, dry place. Once opened, keep all products away from moisture and heat.
Specification
Inside your gift...
Deep Sleep Bath Bomb Each, The Comforter Bath Bomb Each, Butterball Bath Bomb Each
Tags: Gifts