RELAX MORE
Gifts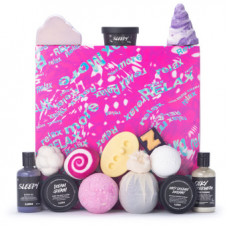 Lift the lid on a lavender lullaby and escape reality with a box of relaxing products that will lead you lovingly to the land of Nod. Let the worries of the day float away on a ylang ylang breeze, as a touch of neroli ensures that only the best dreams will be had. Soothing tonka ensures a peaceful mind while a cocoa butter cuddle softens the skin. Lie back and unwind as this super soothing selection eases your weary mind and body.
How to Use:
Body Lotion: Smooth all over your body, taking extra care with your dry areas.
Bath Oil: Drop into the tub and let the natural oils and butters soften and moisturize your skin.
Bubble Bar: Crumble under running warm water as you fill the tub for mountains of fluffy, fragrant bubbles.
Shower Cream: Hop in the shower and lather up.
Shower Bomb: Run your shower just right and hold your shower bomb under the flow. As it expands, let your mind follow before scooping up the foam, using it to cleanse and going back for more until the whole bomb is gone.
Soap: Hop in the shower and lather up.
Massage Bar: Melt the bar directly onto dry skin and massage the oils and butters in.
Shower Gel: Hop in the shower and lather up.
Dusting Powder: Sprinkle on all over for silky soft skin.
How to Store:
- Before bestowing upon your loved one, store this gift in a cool, dry place.
- Once opened, keep all products away from moisture and heat.

Specification
Inside your gift...
Sleepy Body Lotion 50g, Floating Island Bath Oil, The Mini Comforter Bubble Bar, Oaty Creamy Dreamy Shower Cream 100g, Sleepy Shower Bomb, Dream Cream Body Lotion 45g, Sleepy Soap 100g, A French Kiss Bubble Bar, Theraphy Message Bar, Deep Sleep Bath Bomb, Twilight Bath Bomb, Sleepy Shower Gel 120g, Butterball Bath Bomb, Silky Underwear Dusting Powder 60g and Reusable Box
Tags: Gifts