THE NIGHT GARDEN
Gifts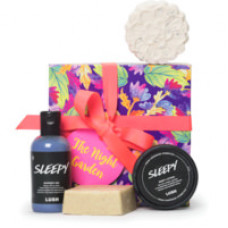 Encased in a charming purple gift box decorated with a flurry of multicoloured leaves, nestles a quartet of snooze-inspiring goodies. Sultana Of Soap acts as a gentle cleanser, celebrating calming essential oils, whilst notes of lavender weave a lullaby of scent through moisture-rich body scrub Buffy, Sleepy Shower Gel, and Sleepy Body Lotion. Combined with choruses of soothing butters and mood adjusting oils, this trio blankets the skin in layers of nourishment and feel-good scents. A good night's sleep could be the greatest gift of all, and with The Night Garden you could give that special someone precisely that. Whether you're looking for baby shower gifts or something for that bride-to-be, The Night Garden can be the first step towards catching those elusive zs.
How to use:
Soap: Hop in the shower and lather up.
Body Butter: Rub the bar onto wet skin to soften bumpy bits. Massage in the rich butters, rinse and pat dry.
Shower Gel: Hop in the shower and lather up.
Body Lotion: Smooth all over your body, taking extra care with your dry areas.
How to store:
- Before bestowing upon your loved one, store this gift in a cool, dry place.
- Once opened, keep all products away from moisture and heat.
Specification
Inside your gift...
Sultana of Soap, Buffy Body Butter, Sleepy Shower Gel 100g, Sleepy Body Lotion 45g
Tags: Gifts