BRAVE
Mouth Care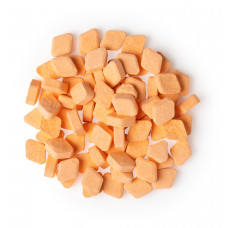 If the stakes are high, but you're stumbling over syllables, if your mouth is dry but your palms are wet - don't hold your tongue; wash the fear out of your mouth with an anthem of fiery-fresh flavour. If it's about to get heavy, embrace the intensity: a chorus of spicy antibacterial clove, long chewed in China to invoke bravery and refresh the breath; a tingly contradiction of ice cold, antibacterial menthol that makes waves, and the tangiest Brazilian orange to pack a punch - and then some. Regain your composure and get back in the hustle by washing away doubt and indecision.
List of ingredients:
Dicalcium Phosphate Anhydrous, Sodium Bicarbonate, Silica, Citric Acid, Glycerine, Sorbitol, Malic Acid, Stevia (Stevia Rebaudiana), Xylitol, Clove Bud Oil (Eugenia caryophyllus), Brazilian Orange Oil (Citrus sinensis), Tangerine Oil (Citrus reticulata), Menthol crystals (Menthol), Cinnamal, Cinnamyl Alcohol, Citral, *Eugenol, *Limonene, *Linalool, Flavour, Colour 15510

* Occurs naturally in essential oils
We do not test our finished products on animals. We also only purchase from ingredient suppliers who do not test on animals.
Product Details
How to Store:
You can leave it on hand on the sink and keep the cap on to keep it moist. When all the tabs are used, the bottle and the cap can be recycled!
How to Use:
Whenever you'd like a little oral refreshment, pop one tab into your mouth and take a sip of water to start the fizz. Nibble and swish before spitting out. Alternatively, dissolve one tab in a small amount of water and use for swishing.
Related Products
Tags: Mouth Care